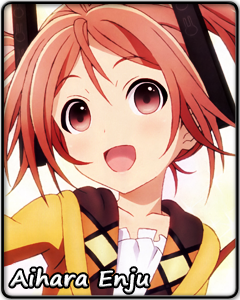 | | |
| --- | --- |
| Name: | Aihara Enju 「藍原 延珠」 |
| Title Series: | Black Bullet |
| Voiced by: | Hidaka Rina |
Career ISML Performance
2015: 25th Place Nova Division. Record: (12-0-23)

Moe Tournament Résumé
Round 3 - Best Girl Contest 2014
Round 3 - Great Awwnime Bracket 2014
Round 1 - Anime Saimoe Tournament 2014
Quarterfinalist - Animefans Saimoe Tournament 2015
Round 1 - Best Girl Contest 2015

"I won't let you kill people," – a simple pledge, but one that can be all too hard to carry out.

Meet AIhara Enju, the person who made that promise. Young and always with a smile on her face, this child is a member of humanity's last line of defense against a zombie-like threat.

While Enju does her best not to let the dire circumstances surrounding her get her down, what hides beneath her smile is a fragile heart ready to overflow and burst with emotion. The memories of countless battlefields and the cruelty of the very society Enju struggles to protect are a terrible burden on her small shoulders. But she has to carry on to her ultimate goal – to see other children like her able to live normal lives.

Enju lives out her life like any normal child her age would – she goes to school, plays with her friends, and enjoys her favorite cartoons on TV. But when duty calls, no matter where she is, she will leap to the scene immediately.

That is how she is – seemingly carefree, but in fact duty-oriented. She must save the innocent lives that might be lost should she not make it to the scene in time.


Past Notable Matches

Best Girl Contest 2014: (Round 3)
Round 3: 1682-3949 to Suzumiya Haruhi (Suzumiya Haruhi no Yūutsu)

Great Awwnime Bracket 2014: (Round 3)
Round 2: 258-409 to Misaka Mikoto (Toaru Majutsu no Index)

Anime Saimoe Tournament 2014: (Round 1)
Round 1: 104-273-48 to Misaka Mikoto (Toaru Majutsu no Index) & over Konoha Suetsugi (Mikakunin de Shinkokei)

Animefans Saimoe Tournament 2015: (Quarterfinalist)
Quarterfinals: (300+102)-(503+52) to Shiba Miyuki (Mahōka Kōkō no Rettōsei)

Best Girl Contest 2015: (Round 1)
Round 1: 3546-3622 to Miyamoto Rei (Highschool of the Dead)