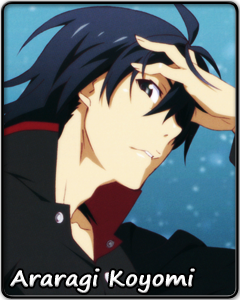 | | |
| --- | --- |
| Name: | Araragi Koyomi 「阿良々木 暦」 |
| Title Series: | Monogatari Series |
| Voiced by: | Kamiya Hiroshi |
Career ISML Performance
2011: Round of 16
2012: Round of 16
2013: Round of 16
2015:
2016:

Moe Tournament Résumé
2010: Animefans Saigar Tournament - Round of 64
2010: Korean Best Moe - Male Tournament - Round of 64
2010: Korean Super Best Moe - Round of 64
2011: Korean Best Moe - Male Tournament - Round of 16
2013: Animefans Saigar Tournament - Round of 32
2013: The Great Awwnime Bracket - Boys Bracket - Semifinalist
2014: Animefans Saigar Tournament - Round of 72
2014: The Great Awwnime Bracket - Round of 128
2015: Best Guy Contest - Round of 16
2015: Bilibili Moe - Male Tournament - Round of 32
2016: Best Guy Contest - 1st Place

A friend, a classmate, a lover, a brother, a pervert, a spirit hunter – many answers can be given to the question of how to define Araragi Koyomi.

It is not easy to be a brother of two energetic and somewhat clingy sisters. It is just as difficult when responsibility for an entire town's worth of supernatural problems suddenly gets dumped on your shoulders. Yet, at the end of the day, a desire to return to the arms of his loved one makes for more than enough determination to see Koyomi through any circumstances.

Koyomi is a risk taker. As such, whenever he is in a pickle, the first thing that comes to his mind is to risk his body if it means getting the job done. Sometimes, he works through force, getting his opponents to submit or admit defeat, even if it means resorting to violence. Other times, he works with kindness, trying to reach another's heart to lift a curse. His trade of work is very dangerous, but Koyomi always manages to pull through to another day.

If there is anyone in need of help, mundane or supernatural, Koyomi is ready to reach out his hand.


Past Notable Matches

ISML 2011 Exhibition Period: (Round of 16)
Round of 16: 1983-2359 to Okazaki Tomoya (CLANNAD)

ISML 2012 Exhibition Period: (Round of 16)
Round of 16: 3126-3713 to Kinoshita Hideyoshi (Baka to Test to Shōkanjū)

ISML 2013 Exhibition Period: (Round of 16)
Round of 16: 3600-4992 to Levi (Shingeki no Kyoji)


Animefans Saigar Tournament 2010: (Round of 64)
Round of 64: 177-305 to Kyon (Suzumiya Haruhi no Yūutsu)

Animefans Saigar Tournament: (Round of 32)
Round of 32: 109-365 to Levi (Shingeki no Kyojin)

The Great Awwnime Bracket 2013 Boys Bracket: (Semifinal)
Semifinal: 149-151 to Kinoshita Hideyoshi (Baka to Test to Shōkanjū)

Animefans Saigar Tournament 2014: (Round of 72)
Round of 72: 40-50-118 to Akashi Seijūrō (Kuroko no Basuke) & Natsume Takashi (Natsume Yūjin-chō)

The Great Awwnime Bracket 2014: (Round of 128)
Round of 128: 227-430 to Kanbaru Suruga (Monogatari Series)

Best Guy Contest 2015: (Round of 16)
Round of 16: 3306-4152 to Lelouch Lamperouge (Code Geass)