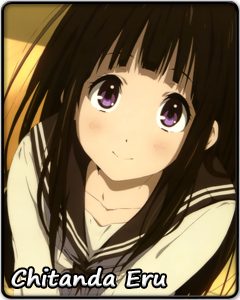 | | |
| --- | --- |
| Name: | Chitanda Eru 「千反田える」 |
| Title Series: | Hyōka |
| Voiced by: | Satō Satomi |
Career ISML Performance
2013: 9th Place Nova Division. Record: (27-0-8)
2014: 7th Place Nova Division. Record: (29-0-6)

Moe Tournament Résumé
Round 2 - Japan Saimoe 2012
Group Finalist - Japan Saimoe 2013
3rd Place - Korea Best Moe 2012
Round of 32 - Animefans Saimoe Tournament 2013
2nd Place - Girls Bracket 2013
Round 4 - Best Girl Contest 2014

They say that curiosity killed the cat, but the threat of mortal peril might not be enough to stave off the curiosity of Chitanda Eru.

Most of the time, Eru is an example of proper behavior. She is polite and knowledgeable in traditional customs. She can keep a conversation going and always has a gentle smile on her face. Her every action is proof of her impeccable upbringing, and Eru spares no effort in making her family proud.

It comes as a surprise, then, to see how her controlled demeanor falls apart in the face of a mystery. Eru does not usually lack restraint, but curiosity can override any and all her instincts. No matter how small or trivial the unknown, when Chitanda Eru wants answers, she will stop at nothing to get them. As her friends and acquaintances well know, she is not above dragging others into her pursuit of the truth.

Despite her bouts of passion, Eru is eventually expected to settle down and continue the family tradition of rice farming. As Eru slowly approaches adulthood, she attempts to reconcile who she is with the expectations of those around her. She would not be satisfied with rejecting or sacrificing either of the two, even if finding the proper balance seems like a daunting task. But with her friends there to support her, Eru is sure to find a way.


Past Notable Matches

Korea Best Moe 2012: (3rd Place)
Round of 16: 133-100 over Sengoku Nadeko (Bakemonogatari)
Quarterfinal: 123-117 over Saber (Fate/stay night)
Semifinal: 138-232 to Makise Kurisu (Steins;Gate)

Animefans Saimoe Tournament 2013: (Round of 32)
Round of 32: (437 + 19)-(703 + 64) to Okinawa Tsurara (Nurarihyon no Mago)

Girls Bracket 2013: (2nd Place)
Quarterfinals: 1217-998 over Nakano Azusa (K-ON!)
Semifinals: 1128-963 over Shiina Mashiro (Sakura-sō no Pet na Kanojo)
Finals: 1146-1255 to Tsutsukakushi Tsukiko (Hentai Ōji to Warawanai Neko.)

Best Girl Contest 2014: (Round 4)
Round 4: 3222-3962 to Mikasa Ackerman (Shingeki no Kyojin)


ISML 2013 Regular Season: (9th seed)
Amethyst 6: 3657-3746 to Yuzuriha Inori (Guilty Crown)
Amethyst 7: 3875-3941 to Aoyama Nanami (Sakura-sō no Pet na Kanojo)

ISML 2014 Regular Season: (7th Place)
Aquamarine 7: 3325-3186 over Kurousagi (Mondaiji)
Emerald 2: 2587-2483 over Tsutsukakushi Tsukiko (Hentai Ōji to Warawanai Neko.)