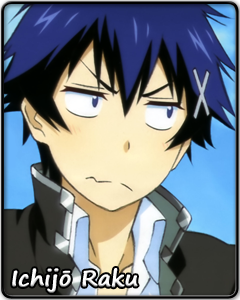 | | |
| --- | --- |
| Name: | Ichijō Raku 「一条 楽」 |
| Title Series: | Nisekoi |
| Voiced by: | Uchiyama Kōki |
Career ISML Performance
First year of participation

Moe Tournament Résumé
Round of 128 - Best Guy Contest 2015

The rumors and stories about yakuza life and culture run rampant in various cultures; however, the last thing people would guess about Ichijō Raku is that he is the son of a yakuza leader, and Raku wants to make sure it stays that way.

Raku looks and acts nothing like the people from those stories and rumors. He is a diligent student, tries his best not to get in trouble, and happens to be a great chef, as vouched by the men who serve under his father. His kindness and compassion have won the hearts of many, to the point where even his men respect him with much passion, much to his chagrin.

Yet Raku bears a secret – a dream about a girl he met long ago and a promise they exchanged. Raku always keeps the locket he received from her on his person. He hopes to one day find the girl who holds the key to open the locket so that they can finally be together again. His memory of that time may be blurry, and the promise of long ago may have already been forgotten, but Raku will continue to search for the girl he had once fallen in love with.

However, Raku will soon find out that the girl(s) from his memory may be a lot closer than he thinks...


Past Notable Matches

Best Guy Contest 2015: (Round of 128)
Round of 128: 2559-3062 to Hashida Itaru (Steins;Gate)