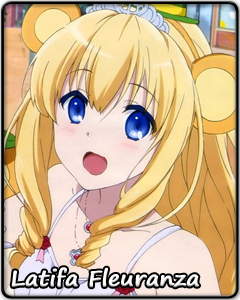 | | |
| --- | --- |
| Name: | Latifa Fleuranza 「ラティファ・フルーランザ」 |
| Title Series: | Amagi Brilliant Park |
| Voiced by: | Fujii Yukiyo |
Career ISML Performance
2015: 20th Place Nova Division. Record: (16-0-19)

Moe Tournament Résumé
Round of 64 - Animefans Saimoe Tournament 2015
Round 2 - Best Girl Contest 2015

Her voice is like an angel's song. Her presence brings calm to everyone around. Her smile is more beautiful than a flower at full bloom.

Latifa Fleuranza is the definition of purity, a girl who knows no evil. Her sole wish is to have people come to her amusement park, have a great time, and come back for more another day. She finds joy in seeing the staff and the customers happily interacting with each other. She finds peace in seeing her community grow and thrive. And her staff loves her no less than she does them.

Yet, this princess of the amusement park is also fragile. She is shaken when there is conflict and confusion. She is not healthy enough to participate in daily activities or help out with manual labor. But she will willingly sacrifice herself if it is for the good of her community. Some people may consider her too selfless, but Latifa simply wishes to see those she cares about smile.

Latifa has the biggest heart, the most guts, and the greatest determination out of all of her companions. She carries the biggest burden, but never shows it to her peers. She has a dream, and will not rest until it comes true.


Past Notable Matches

ISML 2015 Regular Season: (20th Place)
Aquamarine 6: 2939-2863 over Konno Yūki (Sword Art Online)
Amethyst 2: 2475-2529 to Shokuhō Misaki (Toaru Majutsu no Index)
Ruby 2: 2519-2424 over Shiba Miyuki (Mahōka Kōkō no Rettōsei)
Emerald 3: 2577-2485 over Stephanie Dola (No Game No Life)
Emerlad 5: 2873-2752 over Akame (Akame ga Kill!)


Animefans Saimoe Tournament 2015: (Round of 64)
Round of 64: 540-704 to Atago (Kantai Collection)

Best Girl Contest 2015: (Round 2)
Round 2: 2237-4701 to Hachikuji Mayoi (Monogatari Series)