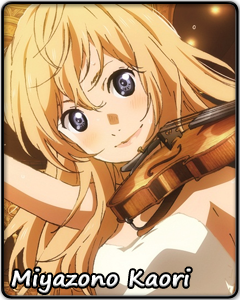 | | |
| --- | --- |
| Name: | Miyazono Kaori 「宮園 かをり」 |
| Title Series: | Shigatsu Kimi ni Uso wo |
| Voiced by: | Taneda Risa |
Career ISML Performance
2015: 21th Place Nova Division. Record: (15-0-20)
2016:

Moe Tournament Résumé
2015: Animefans Saimoe Tournament - Round of 64
2015: AnimeGirl Saimoe Tournament - Round of 64
2015: Baidu Anime Saimoe Tournament - Round of 160
2015: Baidu Nova Moe - Round of 16
2015: Best Girl Contest - Round of 32
2015: Bilibili Moe - Round of 32
2015: Hongkong Golden Saimoe - Semifinalist
2015: Senpuu Saimoe Tournament - Round of 32
2016: AnimeGirl Saimoe Tournament - Round of 32
2016: Baidu Harem Moe - Round of 64
2016: Best Girl Contest - Round of 32
2016: Hongkong Golden Saimoe - Round of 48
2016: The Great Awwnime Bracket - Round of 256

"So ephemeral and weak. But it's shining with all its might. Thump, thump, like a heartbeat. This is the light of life."

If compared to an object, Kaori would be the shiniest star in the night sky. Kaori is hard not to notice; her presence is just like that star, always giving 100% to put out a dazzling brightness above any other. And that is just what she does – using her lively and vibrant nature, she brings light to others and shares the joy of life itself.

Kaori makes music, and her style is explosive, containing so much color and vibrancy that it could bring a corpse back to life. Even if experts say that her musical style is sloppy and does not follow the music score sheets properly, or if others criticize her as just an arrogant teenager trying to prove her worth, she can still hold her head high. She will continue to play the same music that brought joy to her, hoping that others will also see the wonders of music, just like she once did.

Her life may seem like bed of roses, but even the most optimistic people have their burdens. Many choose to hide the worst of those from the people around, and Kaori is no exception. Kaori's secret lays a shadow over her life… but giving in to pessimism would not be like Kaori, would it?


Past Notable Matches

ISML 2015 Regular Season: (21st Place)
Aquamarine 3: 2694-2656 over Yazawa Nico (Love Live!)
Amethyst 5: 3015-2965 over Konno Yūki (Sword Art Online)
Amethyst 7: 3349-3350 to Shichimiya Satone (Chūnibyō demo Koi ga Shitai!)
Ruby 2: 2614-2540 over Yatogami Tōka (Date A Live)
Emerald 4: 2805-2850 to Kirisaki Chitoge (Nisekoi)
Emerald 5: 2705-2780 to Azuki Azusa (Hentai Ōji to Warawanai Neko.)
Topaz 4: 3154-3034 over Tsutsukakushi Tsukiko (Hentai Ōji to Warawanai Neko.)


Animefans Saimoe Tournament 2015: (Round of 64)
Round 64: (372+5)-(457+3) to Kaga (Kantai Collection)

Best Girl Contest 2015: (Round 5)
Round 5: 3952-6343 to Yuigahama Yui (OreGairu)