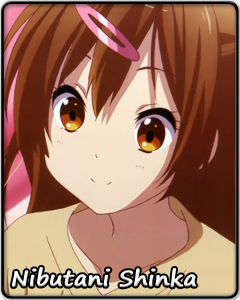 | | |
| --- | --- |
| Name: | Nibutani Shinka 「丹生谷森夏」 |
| Title Series: | Chūnibyō demo Koi ga Shitai! |
| Voiced by: | Akasaki Chinatsu |
Career ISML Performance
2013: 10th Place Nova Division. Record: (26-0-9)
2014: 12th Place Nova Division. Record: (24-0-11)

Moe Tournament Résumé
Round 3 - Great Awwnime Bracket 2012
Round 3 - Japan Saimoe 2013
Round of 32 - Animefans Saimoe Tournament 2013
Round 5 - Girls Bracket 2013
Round 3 - Great Awwnime Bracket 2014
Round 3 - Best Girl Contest 2014
Round of 64 - Animefans Saimoe Tournament 2014

Oh, great fairies of the forest, hear my prayers. Cleanse the earth from its murk and filth and shower it with the grace of your mercy. Fill the world with love and conviction; bring joy to those who hear your voice!

If all the problems of a young girl could be solved with a single magical spell, life would have been much easier for Nibutani Shinka. But far from being discouraged when her arcane incantations seemed to have no effect on the surrounding world, Shinka went on to write down an entire tome on magic and curses. And while Shinka's great work would find a cult following among some researchers of the supernatural, it only brought her laughter and derision from all her classmates.

Eventually, Shinka learns that staying true to herself will not gain her the approval of others. But if those around her insist on a game of small lies and keeping up appearances, so be it. She will show them she can play by their rules. Shinka reinvents herself to meet the expectations of her peers. But behind the warm smile, cheerful voice, and kind gestures lies scorn at all those who were unable to see her world and believe her words.

Shinka enters high school with every intention of leaving her past behind her. But she will soon learn that life behind a façade can be no less difficult then carrying the burden of truth. She might not want to admit it, but the wish to be accepted for who she really is has never really disappeared from her heart. And as luck would have it, her wish might come true in the most unexpected way.


Past Notable Matches

ISML 2014 Regular Season: (12th Place)
Ruby 2: 2264-2365 to Tsutsukakushi Tsukiko (Hentai Ōji to Warawanai Neko.)


Great Awwnime Bracket 2012: (Round 3)
Round 3: 598-789 to Yui (Angel Beats!)

Animefans Saimoe Tournament 2013: (Round of 32)
Round of 32: (626 + 13)-(896 + 80) to Cagalli Yula Athha (Gundam Seed)

Girls Bracket 2013: (Round 5)
Round 5: 853-1214 to Azuki Azusa (Hentai Ōji to Warawanai Neko.)

Great Awwnime Bracket 2014: (Round 3)
Round 3: 342-345 to Senjōgahara Hitagi (Bakemonogatari)

Best Girl Contest 2014: (Round 3)
Round 3: 2791-2830 to Kashiwazaki Sena (Boku wa Tomodachi ga Sukunai)

Animefans Saimoe Tournament 2014: (Round of 64)
Round of 64: (401 + 6)-(793 + 97) to Yūki Asuna