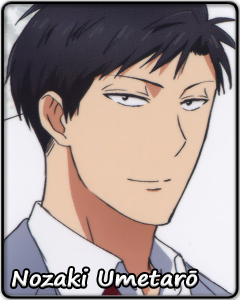 | | |
| --- | --- |
| Name: | Nozaki Umetarō 「野崎 梅太郎」 |
| Title Series: | Gekkan Shōjo Nozaki-kun |
| Voiced by: | Nakamura Yuichi |
Career ISML Performance
First year of participation

Moe Tournament Résumé
Round of 256 - The Great Awwnime Bracket 2014
Round of 64 - Best Guy Contest 2015

If Nozaki Umetarō is walking to school with bandages and patches all over his body, it is likely because he pulled an all-nighter to meet the deadline for the latest issue of work.

It would be difficult for people to guess that someone who looks like a cross between a delinquent and an airhead could in fact be a well-established shōjo manga artist. It is not as if Umetarō is keeping the fact a secret, though. It is just that no one really asks him about it, and when he does tell people about it, few believe him.

Yes, that manga artist is the same person who stares at people's faces intently just to figure out his next character design, constructs a bike to figure out how to proceed with character development, and aligns people's standing positions in peculiar ways looking for storyboard inspiration. He has decent looks, average grades, and average athletic ability, but all he can think about is his manga. No wonder people do not know how to deal with him.

Yet, Umetarō is probably more normal than people perceive him to be. He gets worried when his friends are sick, helps out with others' artistic projects, and prefers to keep working on his manga instead of staying in bed to recover from a fever. And probably only a select few will ever get to see a rare treasure Umetarō can give: a smile.


Past Notable Matches

The Great Awwnime Bracket 2014: (Round of 256)
Round of 256: 337-347 to Kuroki Tomoko (Watamote)

Best Guy Contest 2015: (Round of 64)
Round of 64: 2010-3415 to Heiwaijima Shizuo (Durarara!!)