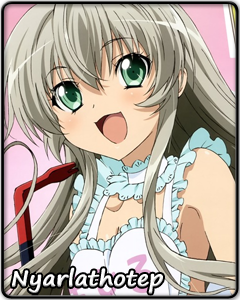 | | |
| --- | --- |
| Name: | Nyarlathotep 「ニャル子」 |
| Title Series: | Haiyore! Nyaruko-san |
| Voiced by: | Asumi Kana |
Career ISML Performance
2013: 11th Place Nova Division. Record: (23-0-12)
2014: 26th Place Nova Division. Record: (11-0-24)

Moe Tournament Résumé
Round 2 - Japan Saimoe 2012
Top 96 - Korea Best Moe 2012
Round 4 - Great Awwnime Bracket 2012
Round 2 - Japan Saimoe 2013
Round of 144 - Animefans Saimoe Tournament 2013
Round 2 - Girls Bracket 2013
Round 2 - Great Awwnime Bracket 2014
Round 2 - Best Girl Contest 2014
Round of 144 - Animefans Saimoe Tournament 2014

Here is Nyarlathotep, the creeping chaos always smiling beside you. But you can call her Nyaruko for short.

Like any self-respecting cosmic horror, if Nyaruko has any reason to visit Earth, it is the planet's universe-famous entertainment industry. A bodyguard assignment there is a great opportunity to smuggle this and that off the planet, too. But unlike most cosmic horrors, Nyaruko has yet another objective behind her trip – the pursuit of love!

Nyaruko is used to doing things at her own pace, even if those around her cannot exactly keep up. Her whimsical nature makes it impossible to predict what wicked idea she will come up with at any time. Which is why even a short conversation with her might result in a significant loss of sanity points. Approach at your own risk!

But just because some of her motives might be unfathomable to mere mortal beings, it does not mean Nyaruko is alien to human feelings like the desire for acceptance and affection. And once in a while, the cheery extraterrestrial shows a more serious side. If there is something she holds dear, Nyaruko will use all of her horrifying powers to protect it.


Past Notable Matches

ISML 2013 Regular Season: (11th seed)
Aquamarine 4: 3942-3988 to Yui (Sword Art Online)
Ruby 3: 3415-3477 to Mikazuki Yozora (Boke wa Tomodachi ga Sukunai)
Emerald 3: 3591-3561 over Yuzuriha Inori (Guilty Crown)
Emerald 7: 3590-3565 over Makise Kurisu (Steins;Gate)

ISML 2014 Regular Season: (26th Place)
Amethyst 4: 2434-2498 to Haqua du Lot Herminium (Kami nomi zo Shiru Sekai)
Ruby 1: 2147-2169 to Chocolat (NōKome)
Emerald 7: 2926-2999 to Nōmi Kudryavka (Little Busters!)
Topaz 4: 2017-2124 to Tobiichi Origami (Date A Live)


Korea Best Moe 2012: (Top 96)
93-107-73 to Chitanda Eru (Hyōka) & over Tōsaka Rin (Fate/stay night)

Great Awwnime Bracket 2012: (Round 4)
Round 4: 569-675 to Shiina Mayuri (Steins;Gate)

Animefans Saimoe Tournament 2013: (Round of 144)
Round of 144: (352)-(526)-(404) to Kurasaki Fūko (Accel World) & Awashima Seri (K)

Girls Bracket 2013: (Round 2)
Round 2: 690-840 to Izumi Konata (Lucky ☆ Star)

Great Awwnime Bracket 2014: (Round 2)
Round 2: 239-440 to Oshino Shinobu (Bakemonogatari)

Best Girl Contest 2014: (Round 2)
Round 2: 1135-3200 to Asada "Sinon" Shino (Sword Art Online)

Animefans Saimoe Tournament 2014: (Round of 144)
Round of 144: (279)-(340 + 4)-(343) to Yusa Emi (Hataraku Maō-sama) & Furude Rika (Higurashi no Naku Koro ni)