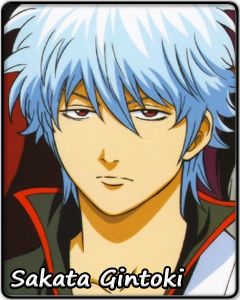 | | |
| --- | --- |
| Name: | Sakata Gintoki 「坂田 銀時」 |
| Title Series: | Gintama |
| Voiced by: | Tomokazu Sugita |
Career ISML Performance
2011: Semifinalist
2012: Round of 16
2013: Round of 16

Moe Tournament Résumé
Semifinalist - Animefans Saigar Tournament 2010
2nd Place - Animefans Saigar Tournament 2011
2nd Place - Animefans Saigar Tournament 2012
Round of 32 - Animefans Saigar Tournament 2013
Round of 64 - Best Guy Contest 2015

"The country? The skies? You can have them. I'm busy just protecting what's right in front of me."

His beastly appearance, diabolical aura, and masterful swordplay on the battlefield earned him the name of the White Demon. Feared by his enemies and highly regarded by his comrades, Gintoki was determined to carry out his teacher's creed: to always protect his friends.

But with the war behind him, this highly skilled samurai turns out to be quite the manchild. He has a strong liking for sweet foods, such as parfaits, and is very fond of comic books. He will make sure he gets his copy of Weekly Shōnen Jump by any means. After the war, he founded an odd jobs business and taking on all kinds of jobs, including the almost impossible, to help people in need… and to pay his house rent. Unfortunately, Gintoki's bad habit of lazying around and reading too much comic books means that he is often behind with the payments.

Gintoki might have failed to protect the one he wanted to protect the most during the war. But will he succeed in protecting more people through his new found job?


Past Notable Matches

ISML 2011 Exhibition Period: (Semifinalist)
Semifinals: 2211-2525 to Lelouch Lamperouge (Code Geass)

ISML 2012 Exhibition Period: (Round of 16)
Round of 16: 3100-3656 to Otonashi Yuzuru (Angel Beats!)

ISML 2013 Exhibition Period: (Round of 16)
Round of 16: 3995-4434 to Eren Yeager (Shingeki no Kyojin)


Animefans Saigar Tournament 2010: (Semifinalist)
Semifinals: 321-328 to Heiwaijima Shizuo (Durarara!!)

Animefans Saigar Tournament 2011: (2nd Place)
Final: 913-1049 to Heiwaijima Shizuo (Durarara!!)

Animefans Saigar Tournament 2012: (2nd Place)
Final: 2115-2434 to Edward Elric (Fullmetal Alchemist)

Animefans Saigar Tournament 2013: (Round of 32)
Round of 32: 1480-1895 to Okumura Rin (Ao no Exorcist)

Best Guy Contest 2015: (Round of 64)
Round of 64: 2690-3211 to Alphonse Elric (Fullmetal Alchemist)