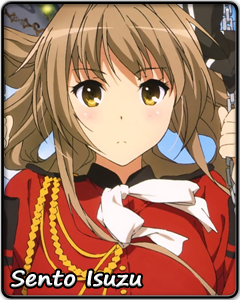 | | |
| --- | --- |
| Name: | Sento Isuzu 「千斗 いすず」 |
| Title Series: | Amagi Brilliant Park |
| Voiced by: | Kakuma Ai |
Career ISML Performance
2015: 9th Place Nova Division. Record: (27-0-8)
2016:

Moe Tournament Résumé
2014: Baidu Nova Moe - Round of 32
2015: Animefans Saimoe Tournament - Round of 64
2015: AnimeGirl Saimoe Tournament - Semifinalist
2015: Baidu Anime Saimoe Tournament - Round of 64
2015: Baidu Harem Moe - Round of 32
2015: Baidu Nova Moe - Round of 32
2015: Best Girl Contest - Round of 64
2015: Bilibili Moe - Round of 128
2015: Hongkong Golden Saimoe - Round of 48
2015: Senpuu Saimoe Tournament - Round of 96
2016: AnimeGirl Saimoe Tournament - Quarterfinalist
2016: Baidu Harem Moe - Round of 64
2016: Best Girl Contest - Round of 64
2016: Hongkong Golden Saimoe - Round of 48
2016: The Great Awwnime Bracket - Round of 128

Never make a woman who can call forth rifles out of nowhere angry.

Serious and duty-driven, Sento Isuzu only has one goal: to make sure that the amusement park she is working at continues to prosper for the upcoming year. If sales start to fall and the number of customers starts to dwindle, Isuzu will do whatever she can to keep the ball rolling. When ruling with an iron fist does not work, Isuzu is forced to find someone to work alongside her and help her come up with some new ideas.

Too much focus on one thing means getting stuck in the same routine. But as stubborn as she can be, Isuzu is always thinking about how to make the amusement park a better place, even if her colleagues and employees may not always like her methods. Isuzu might have the best intentions, but it does no good if her acquaintances are too afraid of her to cooperate properly.

Isuzu realizes her shortcomings, but still believes she cannot afford to relax. There is too much on the line. And when the odds seem to be stacked against her, a friendly reminder that she can share her burdens and troubles with others may allow her to realize what she had been missing all along: faith in her comrades.

Reestablishing herself, Isuzu tries one more time to become the leader people will follow. And this time, she is not alone.


Past Notable Matches

ISML 2015 Regular Season: (9th Place)
Aquamarine 2: 2749-2674 over Yoshino (Date A Live)


Animefans Saimoe Tournament 2015: (Round of 64)
Round of 64: (224+2)-(407+11) to Kirisame Marisa (Tōhō Project)

Best Girl Contest 2015: (Round 4)
Round 4: 3373-6356 to Holo (Spice and Wolf)