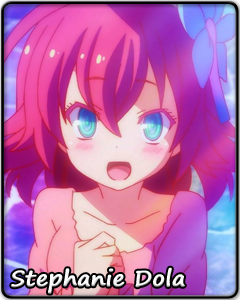 | | |
| --- | --- |
| Name: | Stephanie Dola 「ステファニー・ドーラ」 |
| Title Series: | No Game No Life |
| Voiced by: | Hikasa Yōko |
Career ISML Performance
2015: 18th Place Nova Division. Record: (16-0-19)

Moe Tournament Résumé
Round 4 - Best Girl Contest 2014
Round 5 - Great Awwnime Bracket 2014
Round 1 - Anime Saimoe Tournament 2014
Final - Senpuu Saimoe Tournament 2014
Round of 96 - Animefans Saimoe Tournament 2015
Round 3 - Best Girl Contest 2015

She may not be the most crafty competitor among those aiming for the throne of her land, but no one has a bigger heart than Stephanie Dola.

Kind, considerate, and compassionate, Stephanie, princess of her realm, loves her people. She listens to their cries, figures out the proper measures to control the situation, and calms everyone down with a smile that melts people's hearts. Stephanie would do anything for her people, considering them the top priority over her own life. She will not let them experience suffering and humiliation, even if it means sacrificing herself for the greater good.

Stephanie wishes to succeed the throne and clear the name of her grandfather, the former king of her land. In her youth, Stephanie could only watch as her grandfather, considered a fool among fools, unflinchingly accepted the names he was called. Stephanie may be scatterbrained, gullible, and too selfless for her own good, but she will find a way to prove to the world what a great man he was.

Stephanie will persevere. She will not quit. She will not fall to her knees. Her never-say-die attitude will one day bear fruit, and her hard work until now will all be worth it. She will stand tall, proving to the world once again why her race, her people, and her kingdom are greater than any other.


Past Notable Matches

ISML 2015 Regular Season: (18th Place)
Ruby 7: 3183-3156 over Yatogami Tōka (Date A Live)
Emerald 3: 2485-2577 to Latifa Fleuranza (Amagi Brilliant Park)
Emerald 5: 2740-2851 to Kuriyama Mirai (Kyōkai no Kanata)
Topaz 4: 3061-3014 over Tobiichi Origami (Date A Live)
Topaz 6: 3487-3575 to Shiro (No Game No Life)


Best Girl Contest 2014: (Round 4)
Round 4: 3400-3857 to Kushieda Minori (Toradora!)

Great Awwnime Bracket 2014: (Round 5)
Round 5: 378-542 to Aoyama Nanami (Sakura-sō no Pet na Kanojo)

Anime Saimoe Tournament 2014: (Round 1)
Round 1: 91-226-45 to Atarashi Ako (Saki) and over Kashii Airi (Ro-Kyu-Bu!)

Senpuu Saimoe Tournament 2014 (Final)
Round of 16: 36-32 over Ren Kōgyoku (Magi)
Quarterfinals: 35-27 over Akatsuki (Log Horizon)
Semifinals: 33-30 over Oshino Shinobu (Bakemonogatari)
Final: 37-42 to Tōsaka Rin (Fate/stay night)

Animefans Saimoe Tournament 2015: (Round of 96)
Round of 96: 182-(526+5)-330 to Sakura Kyōko (Puella Magi Madoka ☆ Magica) & Sento Isuzu (Amagi Brilliant Park)

Best Girl Contest 2015: (Round 3)
Round 3: 3625-4821 to Miyazono Kaori (Shigatsu wa Kimi no Uso)