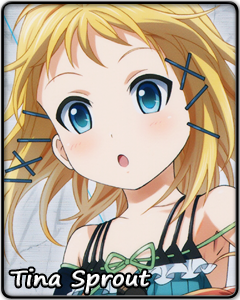 | | |
| --- | --- |
| Name: | Tina Sprout 「ティナ・スプラウト」 |
| Title Series: | Black Bullet |
| Voiced by: | Kurosawa Tomoyo |
Career ISML Performance
2015: 30th Place Nova Division. Record: (7-0-28)

Moe Tournament Résumé
Round 2 - Best Girl Contest 2014
Round 2 - Great Awwnime Bracket 2014
Round 1 - Anime Saimoe Tournament 2014
Round of 64 - Animefans Saimoe Tournament 2015
Round 1 - Best Girl Contest 2015

At first glance, Tina Sprout appears to be an innocent child. Her dopey behavior makes it difficult to just leave her alone, while her pure smile is a heartwarming sight. Tina makes no effort to clear up the misconception – to the uninvolved, she is just a 10 year old kid wandering around town, looking for her parents.

However, during the night, she becomes a relentless hunter, carrying out successful snipes one after another with her trusty .50 caliber sniper rifle and ready to take on even the toughest of targets. But, upon a closer look, it can be seen that Tina Sprout is not like some of the emotionless assassins out there. She hesitates to kill, and her body shakes violently when she aims to eliminate. In her heart, she is still an innocent child, only drilled to obey the orders of her owners. And she is still not numb enough to kill in cold blood

Unlike what the people ordering her around might think, Tina is not just a weapon – she is a girl with her own heart and mind. And deep down, she is just a child trying to make the best out of her life.


Past Notable Matches

ISML Regular Season 2015: 30th Place
Aquamarine 6: 2810-2710 over Shiba Miyuki (Mahōka Kōkō no Rettōsei)
Amethyst 6: 2715-2658 over Kuriyama Mirai (Kyōkai no Kanata)
Amethyst 7: 3180-3273 to Akame (Akame ga Kill!)
Topaz 7: 2835-2933 to Shichimiya Satone (Chūnibyō demo Koi ga Shitai!)


Best Girl Contest 2014: (Round 2)
Round 2: 2413-2810 to Takasu Yasuko (Toradora!)

Great Awwnime Bracket 2014: (Round 2)
Round 2: 285-472 to Nibutani Shinka (Chūnibyō demo Koi ga Shitai!)

Anime Saimoe Tournament 2014: (Round 1)
Round 1: 83-310-41 to Sakura Kyōko (Puella Magi Madoka ☆ Magica) to Takahara Ayumi (Kami nomi zo Shiru Sekai)

Animefans Saimoe Tournament 2015: (Round of 64)
Round of 64: (226+4)-(350+2) to Kirisaki Chitoge (Nisekoi)

Best Girl Contest 2015: (Round 1)
Round 1: 2778-3881 to Xenovia Quarta (High School DxD)