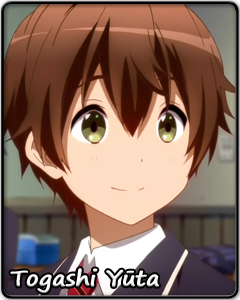 | | |
| --- | --- |
| Name: | Togashi Yūta 「富樫 勇太」 |
| Title Series: | Chūnibyō demo Koi ga Shitai! |
| Voiced by: | Fukuyama Jun |
Career ISML Performance
2012: Round of 16
2013: Round of 32

Moe Tournament Résumé
Round of 72 - Animefans Saigar Tournament 2013
Semifinal - The Great Awwnime Bracket 2013 Boys Bracket
Round of 72 - Animefans Saigar Tournament 2014
Round of 256 - Best Guy Contest 2015

"I am the Dark Flame Master. Perish enveloped in the flames of darkness!"

Wrapping a bandage around his hand in order to seal away the (fake) power of darkness, making up (fake) spells of dark magic and collecting (fake) witchcraft tools – that was the middle school life of Togashi Yūta, an ordinary human being who believed himself to be extraordinary and in possession of supernatural powers. The memories cause the current him so much distress, he will roll around on the ground and bang his head repetitively on the wall from embarrassment.

Strongly rejecting the existence of his delusional past after his return to reality, Yūta starts afresh in a high school far enough from his middle school to avoid meeting any of his old classmates. To his new classmates, he is just a normal high school boy, someone who is kind, optimistic and treats others well. In private, he has a strong sense of justice and is good at doing chores and looking after people. He leaves his alter-ego behind, resolved never to look back.

But when a new acquaintanceship causes his past to return and haunt him, he is forced to step back and reconnect with his younger self. With the help of his friends, Yūta will come to new understanding of his past and its impact on his present self. To overcome his former self is not to reject it, but to accept it. Even if accepting something like that is easier said than done.

Await the return of the glorious Dark Flame Master (Togashi Yūta)!


Past Notable Matches

ISML 2012 Exhibition Period: (Round of 16)
Round of 16: 3254-3610 to Lelouch Lamperouge (Code Geass)

ISML 2013 Exhibition Period: (Round of 32)
Round of 32: 3233-3448 to Otonashi Yuzuru (Angel Beats!)


Animefans Saigar Tournament 2013: (Round of 72)
Round of 72: 624-663-651 to Levi (Shingeki no Kyojin) & Kagami Taiga (Kuroko no Basuke)

The Great Awwnime Bracket 2013 Boys Bracket: (Semifinal)
Semifinal: 136-169 to Oreki Hōtarō (Hyōka)

Animefans Saigar Tournament 2014: (Round of 72)
Round of 72: 59-64-63 to Gray Fullbuster (Fairy Tail) & Natsu Dragneel (Fairy Tail)

Best Guy Contest 2015: (Round of 256)
Round of 256: 1236-4187 to L Lawliet (Death Note)